SMS Hubbing Platform is a Secure, High Density & Turn‐Key Infrastructure for Service Providers who use its open and scalable architecture to run profitable SMS operations globally. The Platform supports extensive SMPP / HTTP / XML Interoperability, delivers service assurance and enables scalable, reliable and secured connectivity between SMS Wholesale Carriers and Applications.
Some of the Services that can be rolled out of this Platform are:
Wholesale SMS Hubbing
A2P and P2A Models
100% cloud based architectur
Runs multiple Campaigns or Broadcasts
Managed and secured with encryption, firewalls and 24×7 surveillance
You pay-as-you-go, lease or monthly subscription
Scales up to 100 Million Transactions per Month
High Availability Architecture
The Platform is available with a Cold Standby on all its elements along with a Real‐time Database replication. A continuous health check keeps track of the primary Server availability and in case of failure, scripts shift the traffic to the Secondary Server.
Pre-Integrated for Rapid Time to Market
The solution is pre‐integrated with SMS Engine, Routing, Real-time Prepaid & Postpaid Billing, Provisioning and Reporting. It is field proven with large Service Providers.
Lower Total Cost of Ownership
Solution runs on industry leading Intel-Linux-JBOSS-PostGreSQL infrastructure. There are no expensive Application Server or Database Licenses to be procured.
Strong Reseller Management
Helps in partitioning the system for multiple White Label Resellers for quicker ROI. The resellers can create their own Billing Plans and add Customers.
Single Platform for Multiple Services
Single Platform means there are no multiple systems to be managed. The Platform can be provisioned and managed through web based Interfaces on PCs and Mobiles.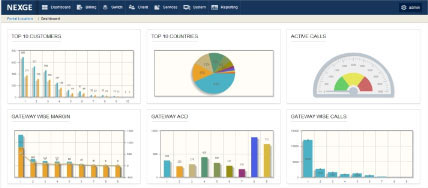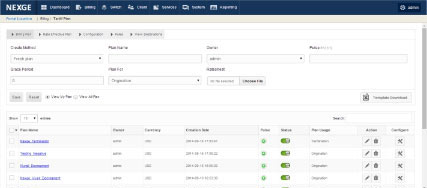 | | |
| --- | --- |
| SMS Engine | SMPP Version 3.4, HTTP, XML and Proprietary Protocols. SMPP ‐ HTTP Interworking. Delivery Receipts. Black lists / White lists of Routes. Topology Hiding & IP Masking. Real‐time Provisioning of Routes. Digit Manipulation & Number Translation. |
| Business Logics | P2P, A2P (Broadcasting / Campaigns), P2A Models. Store & Forward of Messages. Custom Message Throttling. Bulk Message Upload (Broadcast, Unicast, Scheduling, Monitoring the progress of Broadcast). Custom Retransmission Logic. QoS of Carrier Based on Delivery Receipt. |
| Advanced Routing | Least Cost. LRN & MNP. Profit. Routing based on Throttling Rate. Source & Destination. Prefix. Percentage. Preferred. Gateway. Route Capacity. Group. |
| | |
| --- | --- |
| Rates Management | Destination based Rating. Date & Time based Rates Upload. CSV and Excel File Support. E.164 Format Support. E.212 Format Support. |
| Real-time Billing | Wholesale Tariff Management. Blocking & Unblocking of Destinations. Hierarchy based Billing. Re‐Rating. Individual Credit Limits for every Endpoint. Lower Balance Mail Alert. |
| Prepaid Billing | Registered & Anonymous User. Least Cost PIN based on destination. Top up with or without Rate Plan change. Transferring amount between the accounts. Configurable Period, Grace Period and PIN Life. Online Payment Gateway Integration. |
| Postpaid Billing | Subscribers & Groups billing. Periodic Invoice Generation. Invoices in PDF and Excel Format. Online Payment Gateway Integration. Low Balance Announcement on call Initiation. |
| Reseller Management | 5 Levels of Resellers. Reseller White Labelling. Customized login pages for Resellers. Resellers can create own Billing Plans. Real‐time Billing Reports. Active Call Monitoring. |
Operations & Management (O&M)
| | |
| --- | --- |
| Web based GUI | Feature Rich Graphical Dashboard. Web based Administrator, Reseller & User Portal. Detailed Carrier, User & Traffic Reports. Payments, Overdrafts & Fund Transfer Reports. Billing & Invoice Reports. |
| Security | Secure & Validated Remote Access. Validated IP Access. Role based Access Privileges & Control. Selective rights enabling / disabling for Users. Data Encryption for Critical Data Storage. |
| Logging | Configurable Log Levels. User Activity Logs on the System. |